Con il comunicato stampa di seguito allegato, VIA Technologies ha annunciato il suo primo processore quad-core, denominato VIA QuadCore (cfr. le immagini seguenti, l'ultima delle quali coincide con il logo della nuova linea di cpu multi-core, ndr). Il nuovo VIA QuadCore Ŕ realizzato con un processo di fabbricazione a 22nm ed Ŕ caratterizzato da un TDP (Thermal Design Power) pari a 27.5W in corrispondenza di una frequenza di clock per core pari a 1.2GHz.

In accordo al produttore, il QuadCore ha una efficienza energetica superiore del 21% rispetto a quella dei prodotti omologhi offerti dalla concorrenza; inoltre, il chip, che Ŕ stato progettato per l'esecuzione ottimale delle applicazioni a multithread, pu˛ essere utilizzato per l'assemblaggio di PC desktop, notebook, small form factor PC, all-in-one e mini-server. Le prestazioni del dispositivo sono strettamente dipendenti dalla memoria cache di secondo livello, pari a 4MB, e dalla frequenza di clock del bus V4 (la soluzione di VIA per il superamento del Front Side Bus, FSB, di Intel) pari a 1333MHz.

Il VIA QuadCore Ŕ compatibile, al livello di pin, con i precedenti processori delle linee VIA Eden, VIA C7, VIA Nano E-Series e VIA Eden X2; il suo package, che misura 21mm x 21mm, ospita due die dual-core, ciascuno dei quali misura 11mm x 6mm. Tra le tecnologie supportate sono senza dubbio degne di citazione l'Adaptive Overclocking, che determina l'aumento della frequenza di clock dei core dal valore predeterminato di 1.2GHz fino a 1.46Ghz, e l'Advanced Cryptography Engine, che permette di eseguire la cifratura AES nel minor tempo possibile.

VIA mostrerÓ al grande pubblico il processore QuadCore in occasione del prossimo Computex di Taipei (31 maggio - 4 giugno).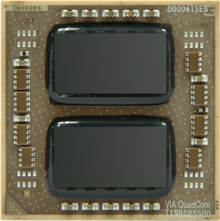 [Immagine ad alta risoluzione]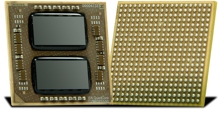 [Immagine ad alta risoluzione]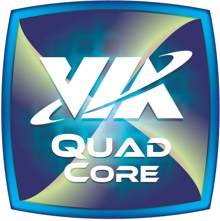 [Immagine ad alta risoluzione]

VIA Technologies, Inc, a leading innovator of power efficient x86 processor platforms, today announced the launch of the VIA QuadCore processor, the lowest power quad core processor on the market today.
Featuring a highly optimized, energy-efficient multi-core architecture, the VIA QuadCore processor delivers awesome multi-threaded performance across the board for multi-tasking, multimedia playback, productivity and internet browsing in a low power envelope. The distributed performance of the VIA QuadCore also makes it ideal for making the most of multi-display environments.
With a TDP (Thermal Design Power) of only 27.5 watts, the 1.2+ GHz VIA QuadCore processor is 21% more energy efficient than the nearest competitor and ideal for a wide range of desktop PC, notebook, small form factor PC, all-in-one PC, and mini-server system design applications.
"As a result of the rapid proliferation of high definition multimedia content and increasingly demanding multithreaded applications, a four core processor is the new baseline for today's mainstream PC user," said Epan Wu, Head of Processor Platforms, VIA Technologies, Inc. "The VIA QuadCore processor meets that need with the industry's most power efficient architecture."
VIA QuadCore Processor
VIA QuadCore processors combine four 'Isaiah' cores on two dies, offering enhanced multi-tasking and superb multimedia performance on a low power budget.
Initially available at a speed of 1.2+GHz, VIA QuadCore processors are natively 64-bit compatible and come with a host of additional performance features including Adaptive Overclocking, 4MB L2 cache, and the 1333MHz V4 Bus. TDP is 27.5 watts.
Other advanced features include VIA VT virtualization, a technology that allows legacy software and applications to be used in virtual scenarios without impacting on performance, and VIA PadLock with the Advanced Cryptography Engine which delivers the world's fastest AES encryption. This hardware-based security feature offers data encryption on the fly, an essential tool in content protection and system security.
VIA QuadCore processors are manufactured using the latest 40nm process, and feature a VIA NanoBGA2 package of 21mm x 21mm with a die size of 11mm x 6mm. They are also fully pin-to-pin compatible with VIA Eden, VIA C7 and VIA Nano E-Series, and VIA Eden X2 processors.
Product Highlights
Power-efficient architecture
High-performance superscalar processing
Out-of-order x86 architecture
Efficient floating point unit (2 clock SP multiplies)
Advanced multi-core processing
Native support for 64-bit operating systems
Hardware virtualization support
Advanced power and thermal management
AES hardware security features
Secure Hash Algorithm: SHA-1, SHA-256, SHA-384, SHA-512
Pin-to-pin compatibility with VIA processor range
VIA QuadCore processors will be on display at the VIA booth at Computex (Taipei International Convention Center, Room 201D) from May 31st to June 4th, and will begin volume shipments in Q3 2011.





News Source: VIA Technologies Press Release
Links